Mixed Veg Sabji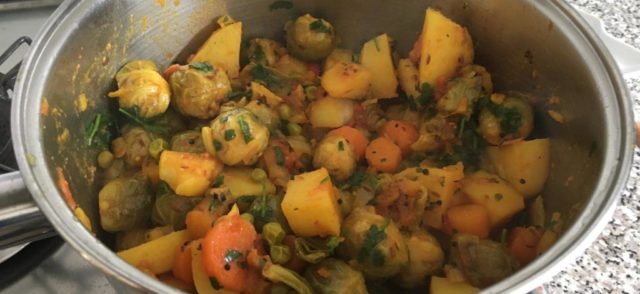 INGREDIENTS
4 medium-size carrots
1 cup frozen peas
3 small potatoes
1 onion
4 cloves of garlic
1" piece fresh ginger
3 chopped tomatoes
Fresh coriander
1 tsp turmeric
1 tsp cumin seeds
1 cinnamon stick
1/4 tsp asafoetida
1/2 tsp ajwain
METHOD
Chop onion, ginger, and garlic.
Wash sprouts and remove any loose leaves.
Wash and peel carrots and potatoes. Chop them into small pieces.
Wash peas in a sieve to get rid of ice.
Melt ghee in the cooking pan.
Add asafoetida and cook on medium heat for a few seconds.
Then add mustard seeds and cinnamon stick cook until mustard seeds crackle.
Add ajwain and cumin and heat for few more seconds.
Add chopped onions, ginger and green chilli.
Cook until onions are soft and light brown.
Add chopped garlic and tomatoes and cook for a couple of minutes.
Add turmeric and salt and cook for a few minutes.
Add Brussels sprouts, carrots, peas, and potatoes into the pan and mix them well with the tadka.
Cook on medium heat until potatoes are soft.
Garnish the sabji with chopped fresh coriander.
Serve it with chapattis and natural yogurt lightly sprinkled with chaat masala.