TRINJAN WOMEN'S SOCIAL & COMMUNITY GROUP
Who are we and what are our aims?
Trinjan, based in Hounslow was founded in April 2004. The main aim of Trinjan is to empower and motivate women by providing a platform to
share their experience and knowledge with like minded women
socialise and make new friends
create opportunities for them for personal development and learn new skills
engage them and their families in creative activities to raise funds for good causes
raise awareness about health, fitness, nutrition and well being
build alliances that encourage community cohesion and charity work
Our Monthly Meeting and what do they offer:
These meeting form an important part of Trinjan services for women. We have had numerous talks, live demonstrations and focus groups on issues related to health, environment and safer communities :
Life style tips to prevent Diabetes
Recycling domestic waste to protect the environment
Engaging in building safer communities
Fostering
Aromatherapy and Essential Oils and their benefits
Reki/Laughter therapy, NLP, EFT, Reflexology
Colon Hydrotherapy/ Food intolerances / Supplements
Pilates/Yoga/Egoscue method
Positive Thinking / Self Esteem
Preparing a CV and awarding winning tips in getting that right job
Life coaching / Counselling/Volunteering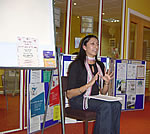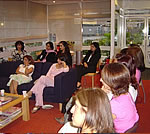 Our meetings are educational, interesting and full of fun at the same time. There is a really good social aspect at the meeting. There is always a time to share a joke and enjoy a song. It's a good way to enjoy an evening after a long day at work
We meet once a month on the last Wednesday of each month.
Fundraisers
There are three to four fundraisers every year. A great deal of planning goes into each event to make it a memorable occasion. Entire families are encouraged to participate and make a contribution towards each fundraiser be it designing a poster/banner/flyer, selling tickets, presenting on the stage, running a quiz, manning the entrance, or organising raffle. Participants get excellent exposures to a range of activities. The events also help to enhance one's confidence and composure. Families are encouraged to join in for raising funds.
Individual Fundraiser Initiatives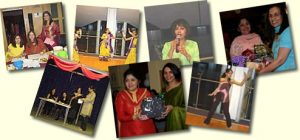 Members are encouraged to use their own initiative to take part in their chosen fundraiser activity or adventure. Five members took part in the Flora Light Women Challenge in Hyde Park in London in September 2004. Half Marathon Run in Reading was undertaken in March 2005.
The Sahara adventure and walking the Great Wall of China were exceptional challenges undertaken by members to raise funds in November and March 2005.